Soia Mentschikoff wasn't our first Dean, but she's the one who is credited with turning the University of Miami onto its current intellectual path.
Stories about her are still legion, and the people who knew her remain either amused by her, or terrified of her, or both. Her ghost still stalks the law school — and (some say) not just metaphorically (see Is the UM Law Library Haunted?).
Among the many things for which Soia is remembered is the "Seven Dwarfs" she hired as legal writing instructors — all of whom, despite the name applied to them when they first appeared on campus, went on to important legal careers. Tomorrow we're having a remembrance of Soia, and a party in celebration of the Gang of Seven.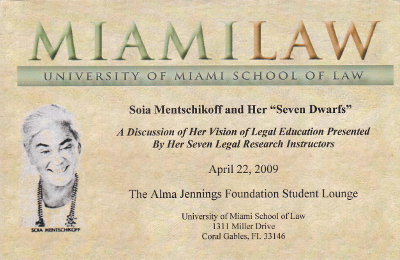 You can read more about the event and the 'Seven Dwarfs' in this scanned invitation (sorry about the quality, the background warred with my scanner). Panel discussion at 2pm, reception starts at 3:30. I'm looking forward to more Soia stories at the discussion.
We're also going to unveil the de la Cruz-Mentschikoff Endowed Chair in Law and Economics which will focus on business associations, planning, commercial and international transactions, securities, and antitrust.