I don't usually gripe here about my employer. That isn't because I lead a life with absolutely nothing to gripe about, nor is it due to a saintly disposition. Rather, it's a self-imposed time, place, and manner restriction.
But someone at the University of Miami School of Law has done something which annoys me.
And it annoys me pretty much every day I come to work.
So I am going to vent about it here.
Some bright spark in the law school — or maybe in the University, this could be a campus-wide phenomenon for all I know — has had the really wonderful idea of putting hideous signs in all the men's rooms. (And, again for all I know, putting them in the ladies' rooms too. I haven't investigated.)
They over-use capitalization; I know, that war was lost long ago.
These signs are green. UM green. It's not my favorite color, so that's a bad start. But lots of things are green in life, including plants and trees. And I like plants and trees. (So long as they're outside. And I don't have to hike around them. But I digress.)
These signs are ugly. But that's not what really bugs me. I could live with ugly. Lots of signs are ugly. (Especially green signs.)
But these signs are smarmy. And they are strategically located where you cannot avoid looking at them.
They are, in fact, creepy in their smarmyness.
The message may seem inoffensive:
"Please Show
Courtesy to
Others By Helping
Us Keep Our
Bathroom Clean"
and indeed I don't have anything against the message. Except the capitalization. And the odd linebreaks. And did I mention they are green? And — worse — did they have to throw in quote marks for no good reason? Who is being quoted here?
But (try to) forget all that, the real problem here is the illustration. It's so horrible I've placed it in the continuation section of this blog post so that I won't have to look at it on my homepage.
There is no need for you to click on this thing. If you do, don't blame me. I warned you.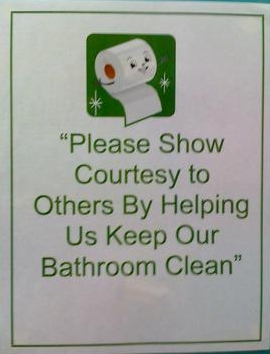 A smiling roll of toilet paper? That's just…awful.