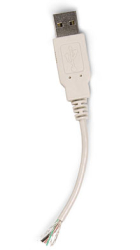 A USB Flash Drive disguised as broken cable. 2GB of extra security at least until the TSA puts it on the watch list.
(Via Schneier)
Or consider the (likely more useful) RFID Blocking Wallet and the RFID Blocking Passport Billfold.
Did you know that there are people out there who specially target paranoids?
Update: pointers to interesting techno-toys welcomed.