Think Progress was where I saw it first: Florida lawmaker seeks Confederate flag specialty plate.
Florida state Rep. Donald Brown (R) introduced a bill last week to create a "Confederate Heritage" license plate for the state. Saying "it would give motorists a way to show pride in their heritage," Brown proposes a $25 charge for motorists to purchase a plate with "a shield displaying the rebel battle flag symbol surrounded by several flags from the Civil War era." The money would benefit "educational programs run by Sons of Confederate Veterans," which considers the Civil War to be "the Second American Revolution."
And they even have a picture: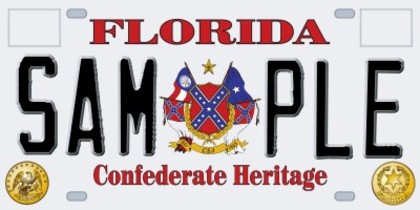 Florida has more specialty license plates than you can imagine. Some are very nice.