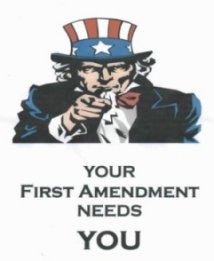 The National Archives is one of my favorite DC attractions. It has a small public display area showing some major documents in American history. Among other treasures, it displays one the original copies of the Bill of Rights — with all twelve of the original proposed amendments. (There's even a special vault to protect the original Constitution and Bill of Rights at night.)
What became our First Amendment is actually the third on the original list. Sadly, it seems that the Archive's guards think the Bill of Rights is just for show.
According to this account in a Daily Kos diary, Vistiors to the Archives were kicked out for wearing "Impeach Bush and Cheney, Change History" T-shirts:
With the original First Amendment "Freedom of Speech" looking on, admirers of the U.S. Constitution in the Washington D.C. National Archives Building today were ordered to leave for wearing tee-shirts reading "Impeach Bush and Cheney." Many of the tourist-activists were in town to hail the arrival of impeachment marcher John Nirenberg, the 61 year-old college professor who has just walked from Boston to D.C. to call attention to the need for the impeachment of Bush and Cheney.

In a telephone interview, one of the participants, Susan Serpa, age 56, told me she was looking at the displays when a female security guard approached her and said "You need to go speak to that man over there" indicating a burly security guard. When Serpa asked why, the woman said: "Your shirt." Serpa's shirt reads on the front: "Impeach Bush and Cheney, Change History." On the reverse it says: "MaineImpeach.org."

Other security guards then approached Serpa and told her: "You need to leave because of your shirt.
Assuming this account is correct, what the guards did is completely, totally illegal, as the Archives is federal property, open to the public, and the wearers were not committing a disturbance. But the guards either didn't know that or didn't care.
How have we sunk to this state?