The WSJ blog gives deserved praise to Maimi firm Stearns Weaver for its holiday card: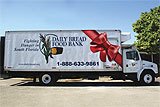 Where most year-end greetings come with photos of adorable children and picturesque snow scenes, this one featured a picture of a food-bank truck (pictured) with the following text:

Past contributions by our firm have enabled the Daily Bread Food Bank to deliver over 1.3 million meals to those in need in our community.

This year, we decided to contribute a truck to help make the deliveries a little easier.

When you see this truck in our community, you may notice that our name is not on it. That is because the gift of this truck is made in your honor. It would not have been possible without you.
Nice work, gentlepersons.
The Daily Bread Food Bank (an affiliate of America's Second Harvest) is one of the charities our household donates to.