Maybe I've gotten to the age where you lose touch with the Zeitgeist, but from where I'm sitting there's been a rash of really bad high-profile logo design recently.
It started with the UK's atrocious logo for the 2012 games: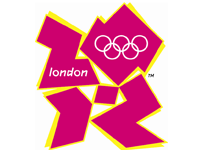 Then Miami got into the act with a new logo for the Downtown Development Authority. This one isn't actually as bad, but it's local so it feels worse than it probably is: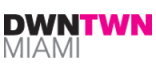 Plus, the justifications for it were just inane: "Not having the O's makes it more creative," said one Board member. Eh?
I think it looks silly, perhaps even illiterate, and fear it will confuse foreign tourists. But I do take some solace from SNAFUed's analysis: "you really want the young people to go downtown, and they are definitely used to missing vowels from text messaging, so why not?"
Now, though, comes the winner in the lousy logo sweepstakes: The new GOP logo for their 2008 convention:
The GOP press release says that this elephant is triumphant, but I'm with Colin McEnroe, who says This Is Your Elephant on Drugs.
I do think, however, that the people suggesting that this pachyderm has a "wide stance" designed specifically for the convention in Minneapolis are going a bit far.