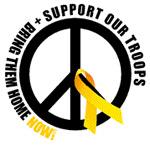 Below I quote a very disturbing story from the Army of Dude blog by Alex Horton, a 22 year old from Frisco, Texas.
Last week I heard a story of official blackmail similar to this one from a friend who is a reserve officer regarding the treatment of some career officers he knows — so this blackmail isn't limited to the enlisted ranks.
Army of Dude: Happy Dependence Day!: Four years of war and this Army is a skeleton of its former self. Equipment is broken or obsolete, thousands are dead and wounded and many of us can't wait to get off the Hindenburg. For awhile, deployments were kept to a year, with at least twelve months back home to recuperate, to get new equipment, to bury the dead. To keep the surge going, deployments have been extended to fifteen months to keep the year at home from shrinking down to nine or less months. The number of people getting out was devastating, so the Army needed a new plan to keep people in. New slogan and advertising campaign? Check. Stop loss program? Check. Bigger bonuses? Check. Guaranteeing non-deployable positions at training posts and recruiting stations, acknowledging people are scared stiff to go to Iraq? Check. Still the numbers are low. After watching too many 80s gang movies, someone thought of such a simple, foolproof idea: good ol' fashioned blackmail.

Before we left Baghdad, the re-enlistment briefs got a little more disturbing. Instead of letting you know what a bum you'll become if you leave the Army after your enlistment, they put it in simple terms: if you don't re-enlist, you'll be thrown in 5th Brigade, the Stryker unit on Ft. Lewis that was being stood up, and yes, they were deploying as soon as they could. So you might as well stay where your friends are and come back to Iraq with them. Otherwise, you'll be taking your chances by getting your ass stop-lossed and sent to Iraq in as little as six months to a year after you returned. Better off with the sure thing. Here's a pen, junior. If you got out after July 2008, you were screwed. I, on the other hand, was in the clear since I was getting out at the end of 2007. The options were re-enlist, extend to meet the unit's needs, or take no action. I checked take no action, which meant my name would be added to the pool of possible candidates for 5th Brigade. No matter. It was of no consequence if I separated from the Army in 3rd or 5th Brigade. A lot of us were in that boat. Still, it spooked us that someone could come to us with a list and a smile and say in so many words that we were fucked into another deployment unless we added years to our contracts. In short, the thanks we got for serving our country was being forced into a game of Russian Roulette. Take the risk, pull the trigger. See what happens.
I suggest you tell this story the next time anyone dares suggest that anything short of calling for withdrawal amounts to "supporting the troops."