Walt Disney Standards of Business Conduct Illustrated
All quotes verbatim excerpts from Walt Disney Standards of Business Conduct; illustrations shamelessly hotlinked from all over.
Dear Fellow Disney Team Member:
Throughout the years, our guests, audiences, consumers and shareholders have come to depend on us for quality, creativity, innovation and integrity.

People trust us because of our commitment to them and to the standards to which we hold ourselves. We alone are responsible for upholding our excellence and our integrity. This means acting responsibly in all our professional relationships, in a manner consistent with the high standards we set for our business conduct.
Upholding legal standards of conduct, while mandatory for every Cast Member and employee, is not enough. We are also responsible for maintaining ethical standards. These standards govern how we treat everyone with whom we have contact. These are standards of integrity… honesty… trust… respect… fair play… and teamwork.
In short, these are the standards we want Disney to continue to uphold in the years to come. Your company believes that its behavior as a business should reflect the commitment to the values set forth in these "Standards of Business Conduct."
The Standards in this booklet explain both our legal and ethical standards. Please read them. Be familiar with them. Act on them. And don't be afraid to speak up when you have a concern or a question. Talk to your supervisor, your respective Human Resources representative, or the Corporate Legal Department.
Our Standards of Business Conduct are here to guide our behavior and to help us live up to the highest expectations of excellence that are "Disney." As we continue to create Disney magic, I hope your actions show your pride in yourself, those you work with, and the Company.
– Bob Iger
President and Chief Executive Officer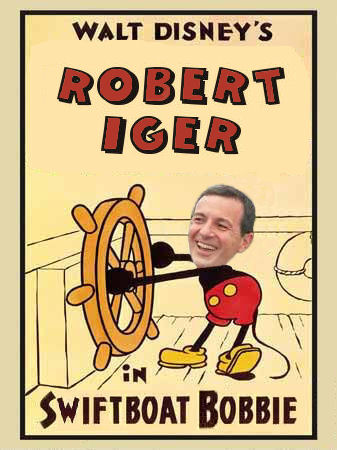 Our guests and customers expect and deserve the best.
Quality
The Walt Disney Company and its subsidiary and affiliated companies (collectively the "Company") are recognized around the world as providers of high-quality entertainment of all kinds, including films, television shows, attractions, consumer products, stores and resorts.
Our Company's reputation is a heritage that we must safeguard.
It is our goal to provide a reasonable return to our shareholders, and to increase the value of their investment. At the same time, we must be sure to protect the business and reputation of our Company, so that the Company can and will continue to live up to the expectations of shareholders, guests, customers, Cast Members and employees. Honest and ethical behavior in all matters relating to the business of the Company contributes significantly to achieving these goals.
Conflicts of Interest
Our business is built on public trust and confidence, and the expectation of our guests and customers that they can depend on our products and services.
To ensure that we deliver our very best, we require the full and undivided dedication and efforts of all of our Cast Members and employees. Moreover, every Cast Member and employee must avoid conflicts of interest or the appearance of conflicts of interest in the performance of his or her job. Conflicts of interest or the appearance of such conflicts could also damage the Company's good name.
Accurate Reporting
Each individual shall report and record all information, and complete Company documents, accurately and honestly.
L. Accountability for Compliance with the Standards of Business Conduct
The standards referred to herein are mandatory and apply to all employees and Cast Members, who will be held accountable for compliance with the Standards. Failure to abide by applicable standards may lead to disciplinary action up to and including termination. Additional standards may apply to employees of specific business units or locations. Thus, for example, station and network programming and news personnel are subject to additional standards which are set forth in other documents.
M. Dealing with Improper or Illegal Behavior, and Suspected Violations of Law (continued)
Cast Members and employees are encouraged to talk to their supervisors or managers when in doubt about the appropriate or ethical course of action in a particular situation. Every Cast Member and employee must report any unethical, improper or illegal behavior, or any suspected criminal activity involving or relating to the Company. The Company also must be made aware of any complaints regarding accounting or auditing matters, as well as its internal controls. Thus, any Cast Member or employee who believes, suspects, or becomes aware of any complaint that anyone at the Company is acting unethically or is violating, or has violated, any law, governmental rule or regulation on behalf of the Company, must report this to the Guideline or to the Corporate Legal Department. The Company believes that it is most helpful when a Cast Member or employee making such a report identifies himself or herself; however, it is not required. While, in any event, the confidentiality of any person reporting unethical, improper or illegal activity will be protected to the extent possible under the circumstances, reports will also be accepted anonymously. Moreover, the Company strictly prohibits any form of retaliation against anyone who reports unethical, improper or illegal activity.
The Guideline (800) 699-4870
The Guideline is one way for employees, Cast Members, vendors, suppliers, customers, and others to report 1) questionable activities – including questionable accounting or auditing matters; 2) complaints regarding the Company's accounting, internal accounting controls or auditing matters; or 3) to ask for guidance on any work-related issues, or to make the Company aware of any suspected unethical or illegal conduct, or violation at the Company.
The Guideline may be called any time, day or night, as it is available 24 hours a day, 365 days a year. The Company strictly prohibits any form of retaliation against anyone who reports any suspected wrongful conduct to the Company or any governmental agency. Reports are accepted anonymously, and the confidentiality of all reports will be maintained to the extent possible.