Years ago, in writing about privacy in public places and the rise of ubiquitous camera surveillance — a state now nearly achieved in parts of the UK and the US, and coming to a lamppost near you — I predicted that masks would become a hot fashion accessory. And sure enough, in the UK someone is selling Hoodie sweatshirts with integrated masks. (spotted via Boing Boing)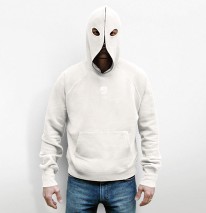 I don't know what the law is in the UK, but in the US we have mask laws in many states (written originally to stamp out the KKK), that prohibit the wearing of masks in public. These laws are enforced somewhat erratically — they never seem to apply on Oct. 31. And some courts have ruled them unconstitutional, although others have upheld them.
There have been a few cases since I wrote The Death of Privacy?, which is a general survey of technological threats to privacy and possible responses, but if you would like a brief discussion of the legal issues relating to masks you will find them in Section II.B.1.b.