A dentist found the source of the toothache Patrick Lawler was complaining about on the roof of his mouth: a four-inch nail the construction worker had unknowingly embedded in his skull six days earlier.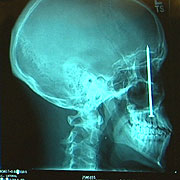 I have two questions about this.
First, how in the world can you jam a four inch nail up your head and not know? (Amazingly, this is not a unique case: "This is the second one we've seen in this hospital where the person was injured by the nail gun and didn't actually realize the nail had been imbedded in their skull," the neurosurgeon said. That's two cases in one hospital alone. Imagine how many there could be nationally. Imagine the revised disclaimer the lawyers will be making the nail gun people but into their users manuals…)
Second, what did they say in the hospital when they developed the x-ray? Did they assume something went wrong with the x-ray machine and do a second one?