Since basically none of us can get tickets to attend the debate being held here on campus Thursday night — all the tickets go to the press, except for a handful that go to students — it might as well be happening on Mars…except for the fact that we get three emails a day warning about Draconian security measures and a ban on parking on this side of the State line.
The Miami Herald pretty much captures the exicted atmosphere on campus in the first paragraphs of today's front-page story, Security is tight on a laid-back campus (obnoxious reg. req):
Security at the University of Miami tightened Monday as the presidential debate loomed: Barricades and fences appeared. Police cars prowled back roads. Students were warned to wear IDs around their necks — or face being booted off campus.

And, yet, there was undergrad Amy Pearlman, at the lip of a campus lake, sitting on a blue towel in her bathing suit, brow furrowed, studying a psychology textbook.

Her student ID? It was in her purse.

"I didn't want to get a tan line," she said, shrugging.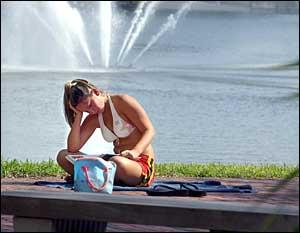 In addition to this pix of a typical student, hard at work studying, please note, the Herald provides a link to the UM student debate blog … which seems slashdotted at the moment.