I'm going to be away for most of the period between July 26 and August 6. For the first few days I will be at the Internet Meltdown event, and might blog a little from there if the wifi is working. But after that blogging could be very sparse: I'll be back in Miami but not in my house since the construction will have temporarily taken over. Then I'll be at a Berkman Center conference.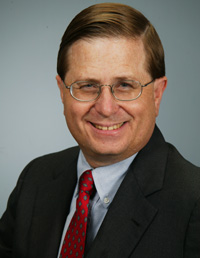 My colleague George Mundstock has heroically volunteered to step into the breach as a guest blogger (starting this week), which should be fun. George is a guy who knows numbers. He's a tax lawyer, and an expert on accounting, but if you met him it would undoubtedly destroy any stereotypes you had of what tax lawyers are like. George is the antithesis of stuffy. He's wickedly funny. He has wildly iconoclastic taste in music. He learned to program on an IBM 1130 and runs Linux (SuSE) at home. And he cares about tax policy. So I've created a new category Law:Tax just for him.
George joined the UM faculty long before I did, and a few years ago his achievements were recognized with the offer of a prestigious chair at the University of Minnesota. Since that's reputed to be a good school, and since his family was from around there, George moved, leaving a very George-sized hole in our faculty. Last year, to our delight, he decided that he wanted to come back—the perfect answer to the vast George-sized hole we had yet to fill. As I was chair of the Promotion and Tenure committee last year, my share of the bureaucracy necessary to rehire him involved me assembling his weighty publications and reading through years of his teaching evaluations. The teaching evaluations were humbling: students love him and apparently love his quirky humor too.
If I had to guess, I'd bet that George's politics are somewhere to the right of mine, but I'm not really sure. I have no idea what party if any he belongs to. He's interesting. He's going to have fun doing this, and I think people who read this blog will find what he has to say as stimulating as we at UM do.
Here's the formal bio:
George Mundstock graduated from Northwestern University with a degree in mathematics in 1975 and from Harvard Law School in 1978. At Harvard, he focused on taxation, so that, after school, he joined the tax practice in the Cleveland. office of Jones, Day, Reavis & Pogue. In 1982, he left Jones, Day to become an attorney-advisor in the Office of Tax Legislative Counsel at the US Treasury. At Treasury, he worked on the tax reform proposal that formed the basis for the Tax Reform Act of 1986 as well as on legislation limiting tax-exempt bonds and regulations relating to tax compliance. In 1985, he joined the faculty of the University of Miami School of Law, where, except for stints at George Washington University and the University of Minnesota, he has been ever since. He has authored textbooks on partnership taxation and accounting for lawyers and numerous articles on tax policy and accounting. He was an expert witness on finance for the plaintiffs in the Florida class action against the US tobacco industry, which resulted in the record $145 billion punitive damages judgment, and continues to consult as the case proceeds through the appellate process. Currently, he is preparing a second edition of his accounting text and is trying to rethink the US rules that control the taxation of US-based multinational businesses.