It's good that a little bit of the defict-pumping tax cut is trickling down to working people. What's surprising is not that employment is up, but how little. What's even more surprising is how ineptly the numbers are being reported in the newspapers.
Comes now MaxSpeak to draw a picture and set us all straight. "OH PROMISE ME …" has a nice simple picture we can all understand, comparing the jobs the Administration promised its economic plans would create to the jobs actually produced. Worth more than a thousand words, easy.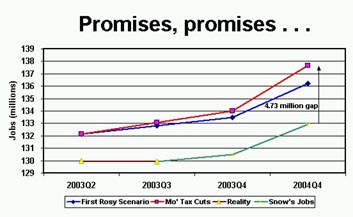 Reproduced with permission from Max Sawicky.