In Part I of my Voters' Guide to the August 2022 Miami-Dade Ballot, Judicial Elections. I provided TMI about the way I make these recommendations. I also discussed the four Circuit Court races on the ballot this August 23 (or earlier if you vote absentee or by early voting).
This post is about the three contested County Court races. Please vote. Most people don't vote in the judicial elections, so your vote matters more than usual.
County Court
Group 5: Vote for Judge Fred Seraphin (please)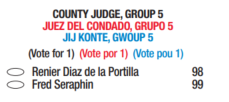 Circumstances alter cases.
Last time around I thought it was a close call, but came down against reelecting Judge Seraphin:
Judge Fred Seraphin (FSU Law) is being challenged by Milena Abreu (Loyola Law School, New Orleans). Judge Seraphim is notable for being the first Haitian-American Judge in Miami-Dade County; he's also notable for being the judge who wouldn't let an assistant public defender take a 15 minute break every few hours during a trial to pump breast milk. I find that pretty incredible, although in an interview with the Daily Business Review (now behind a paywall), Judge Seraphin claimed that this was simply a "miscommunication." Ms. Abreu is a fairly credible opponent, with 15 years experience split between the PD's office and private practice.

Despite several stories of being inconsiderate about lawyers' lives or illnesses, Judge Seraphim's bar poll numbers were good (42% exceptionally qualified, 47% qualified). Ms. Abreau only managed 23% and 54%, which isn't bad either, but isn't as good.

Judge Seraphim has a striking personal story, which he features on his web page; being the victim of injustice, he says, has helped him understand justice. It's a powerful pitch.

A spokesman for the Caribbean Bar Association told the Daily Business Review on Dec 4, 2015 that,

"One of our purposes is to have more Caribbean judges, so it is a concern," said Devona Reynolds-Perez, president-elect of the Caribbean Bar Association. "It impacts the current diversity on the bench, which is in a sorry state. So we're sorry to hear that he drew opposition. His appointment to the bench was a historic landmark, so it would be very sad and disappointing to see him lose that seat.

Yet could it be that he deserves to lose? The Herald, unsurprisingly, endorsed the incumbent. I'm not so sure – if a judge who wasn't an historic first had behaved like that, would we retain him? What does it mean to 'understand justice' if you are cruel or unfeeling to advocates in the courtroom?

I can see why a reasonable person would go with experience and a compelling life story, and vote to keep Judge Seraphim – and it is a close call – but I think I'm voting Milena Abreu (line 94) even though it will contribute to the narrative that 'Hispanic names,' and especially women with Hispanic names, win judicial elections in Miami-Dade.
This time is different. Let me explain.
Lawyers still complain that Judge Seraphin has a, um, brusque manner on the bench, although his supporters have claimed he's learned from his mistakes and that the lawyer in the breast milk incident has forgiven him, and the courthouse now has lactation rooms. But that's not what makes this time so different. The big difference now is the (utter lack of) quality of his opponent.
Quite simply, Renier Diaz de la Portilla has no business seeking to be a judge. Under no circumstances should you vote for him. There are so many reasons why, but I'll try to restrain myself.
The de la Portillas are one of the big political families in South Florida; Alex Diaz de la Portilla, the candidate's brother, is a current Miami Commissioner. And this is not Renier Diaz de la Portilla's first rodeo. He ran for judge in 2014 and lost. (He ran for county commissioner in 2020 and lost. And he ran for state representative twice, winning to replace a seat vacated by his brother Alex, then losing it in 2002.) Along the way RDLP managed a two-year term on the School Board in 1996 and 2006.
When RDLP ran for judge in 2014 (he eventually lost), I had this to say:
I really don't like either candidate. On one side we have Renier Diaz de la Portiilla, charmingly slimed by his detractors as the Fredo of his very political family. On the other side we have Veronica Diaz, from the Miami City Attorney's office, who is also the subject of a slime campaign. [….]

[…] Renier Diaz de la Portiilla is a former member of the Miami-Dade School Board, where his tenure is remembered for his proposal that the public schools offer Bible study. He followed that with a plan to drug test students – that one passed. In a sign of the electorate's good sense, he's been an unsuccessful candidate for other political offices since then. He's been late to file various electoral-related papers such as a campaign finance report. A somewhat debatable ethics complaint just got filed against him […]. And his current employment as a lawyer – with well less than a decade's experience – has been notable for its very low earnings of under $40k/ year, suggesting a certain lack of free-market demand for his services.

[…] The bar poll is a sorry sight: […] RDLP's scores were 8/29 with 62% (!!!!) saying 'unqualified'. Yes, even worse than Diaz.

The Herald endorsed RDLP, although it admitted that he "doesn't necessarily inspire the confidence of having deep and broad experience that voters should have in those they send to the bench."
In retrospect, that looks too kind, or maybe things are worse now. The Political Cortadito blog has been on the RDLP story, and it's a doozy:
I'm not going to rehash all that because it's not pretty, and it's pretty complicated, nor will I go into RDLP's history as a public brawler, because there's a simpler way to demonstrate how just horribly unfit RDLP is for the bench.
We got this mailer the other day.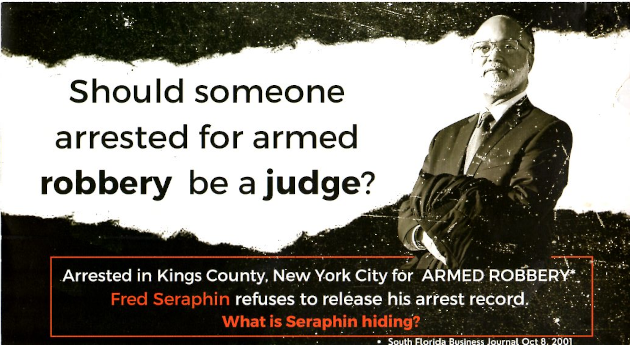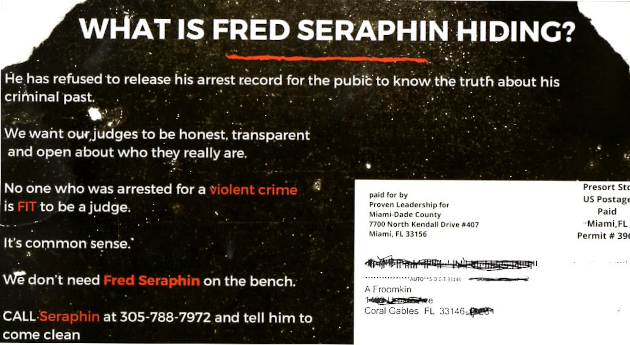 This makes my blood boil for so many reasons.
First off, this is just clear race-baiting, pandering to prejudice.
Second, Judge Seraphin has never made any secret of the fact he was wrongly arrested as a college student. Indeed, he says this brush with injustice in 1982 is one of the reasons he wanted to become a lawyer and judge.
Third, the fact that a young Black male got arrested for a robbery 40 years ago and then the charges got dropped should tell you something. Like maybe it was clear he didn't do it?
But never mind all that. Shouldn't judicial candidates understand the presumption of innocence?
But wait, you might maybe say, how dare I attribute this evil mailer to RDLP? It's not signed or approved by him, but by "Proven Leadership for Miami Dade County". Well, the head of that outfit is Nancy Brown, a CPA who also happens to be the head of RDLP's campaign committee. And don't hold your breath for RDLP to blame a rogue campaign staffer–this is just how the "Proven Leadership" PAC rolls: they've done this sort of thing more than once before.
And RDLP's brother is all in on the flyer. Here's what Channel 10 News had to say about it:
MIAMI – A recent political flyer distributed in Miami-Dade County epitomized the meaning of a published "hit piece." Even more embarrassingly, it included a typo. Instead of "public," the author wrote "pubic."

The flyer's content is peppered with lies. The author falsely accuses Miami-Dade Circuit Judge Fred Seraphin of refusing to "release his arrest record" and of having a "criminal past."

To support the misleading "criminal past" allegation, the author of the flyer twisted the context of an old news report and likely banked on no one actually looking it up and reading it.

What the journalist actually wrote in that report is that as a college student Seraphin was the victim of racial profiling when he was arrested and falsely accused.

Seraphin was released and prosecutors never charged him with a crime. He was innocent and he has referred to the experience in public as the impetus of his distinguished legal career.

It's a story that former Gov. Jeb Bush knew well when he appointed Seraphin in 2001 as Miami-Dade County's first Haitian-American judge. He is running for the County Court Group five nonpartisan race.

Seraphin's opponent on the ballot is Renier Diaz De La Portilla, who was admitted to the Florida Bar in 2007 and served as a member of the Miami-Dade School Board and a former state representative.

De La Portilla's well-known Cuban-American brothers are Miguel, a former Florida senator, and Alex, a Miami commissioner who admitted to being behind the information on the flyer.

The Proven Leadership for Miami-Dade, a Political Action Committee based in the south Dadeland area, funded the deceitful propaganda. It's the sort of behavior the Florida Supreme Court's Judicial Ethics Advisory Committee frowns upon.
And, oh yes, RDLP is endorsed by Hialiah Mayor Esteban Bovo. Yes, the very Estaban Bovo who not only continues to insist on the 'big lie' that Joe Biden is not the President, but also recently tweeted a genuinely disgusting image insulting large swaths of Democrats, Blacks, Trans persons, and others. No way I'm republishing it, but the morbidly curious will find it here.
I apologize if I've gone on too long about this, but I think it would be a terrible travesty if RDLP became a judge. I could have said more. It seems, for example, there's another mailer. But enough.
If you cast just one vote for judge, vote line 99 to re-elect Judge Fred Seraphin.
Group 19: Elect Judge Kolokoff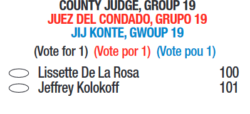 Group 19 finds two-year veteran Jeffrey Kolokoff facing challenger Lisette De La Rosa. (Another woman with a Hispanic name challenging an appointed Judge…see a pattern?). Gov. Ron DeSantis appointed Judge Kolokoff after 14 years of experience in a combination of practice as an Assistant State Attorney and a private law firm.
From what I've read, Judge Kolokoff is doing a decent job. While the challenger has experience — 20 years of it — and seems well-intentioned, I don't see any reason to think she'd do a better job. The Herald endorsed Kolokoff.
Group 42: A Good Choice to Have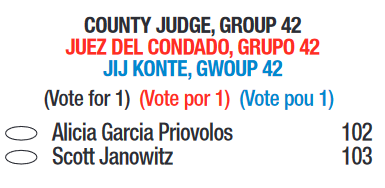 This one is hard, but in a good way. Both candidates look good. Judge Scott Janowitz (a UM Law grad) is an energetic judge who has already contributed meaningfully to streamlining court administration. He may not be modest, but he's energetic, and his appointments to various administrative jobs suggests that his fellow judges have confidence in him.
On the other hand, Alicia Privolos has a lot going for her too. More than any of the challengers on the ballot (other maybe than former Judge Bloch in group 52), Privolos has a background that suggests she could hit the ground running. She's been a prosecutor for 17 years, and was given top jobs at the State Attorney's office, most recently as head of the Human Trafficking Unit. She's tried a lot of cases. And she has some presence that will translate well to the bench.
In a recent judicial forum someone asked Judge Janowitz what we should make of his membership in the Federalist Society. In an answer that gets a point for honesty and loses one for being an apparatchik, Janowitz admitted sheepishly that he'd only joined because that is what it takes to get appointed as a Florida judge these days. Make of it what you will.
The Miami-Dade League of Prosecutors endorsed prosecutor Priovolos over former prosecutor Janowitz. So did the Herald.
I am going to vote for Janowitz on my keep-competent-incumbents principle, but I understand why not everyone will agree, since on some metrics Priovolos is more impressive. Whichever one of these candidates win, we win. Given the general state of the judicial elections this year, that's a very strange feeling.