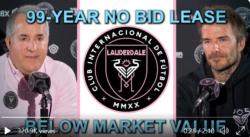 It not uncommon for city or county governments to rip off taxpayers by handing valuable land cheap to developers, or even subsidizing development whose benefits will run primarily or even entirely to the mega-wealthy. That is the story of many a sports stadium.
But only in Miami would the beneficiary of one giant taxpayer ripoff, indeed the largest in area history to date (the Marlins stadium), do a video mocking another proposed ripoff, here the Melreese giveaway.  That's the giveaway of a huge park that will supposedly be used for a soccer stadium, but which camouflages the fact that most of the land will be used for a mall and other private profit-making buildings. Is the video fueled by envy that the new ripoff would smash the Marlins' record?
See the video at Twitter. Be warned that it contains language that people from more delicate parts of the world may consider unfit for polite company.
Spotted via Political Cortadito