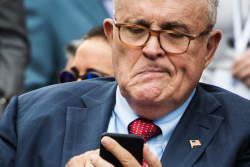 Washington Post reports that Trump is stiffing Rudy Giuliani on his (inflated?) legal fees after a falling out:
Trump has instructed aides not to pay Giuliani's legal fees, two officials said, and has demanded that he personally approve any reimbursements for the expenses Giuliani incurred while traveling on the president's behalf to challenge election results in key states. They said Trump has privately expressed concern with some of Giuliani's moves and did not appreciate a demand from Giuliani for $20,000 a day in fees for his work attempting to overturn the election.
And why not? Rudy is of no further use at this point, and Trump always stiffs his creditors.