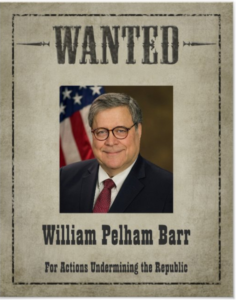 Marcy Wheeler has the goods:
Among the things Bill Barr did in his second tour as Attorney General were to:

In short, over an extended period, Bill Barr laid the groundwork for the two-month effort to undermine the election that culminated in a coup attempt. The outcome of Barr's actions — the disparate treatment by the department of Trump supporters, the empowerment of right wing terrorists, the continued influence of Powell and Rudy — was foreseeable. Nevertheless, Barr persisted with those policies that laid the groundwork for the January 6 insurrection.
And, let's not forget the very misleading spin of the Mueller Report.