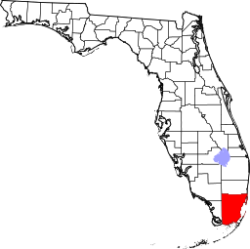 In the course of a long essay explaining what's going in in Florida voting and why it's going to be a very close race, Steve Schale, long-time guru of the Democratic ground game in Florida, tries to explain Miami-Dade politics to the world:
It is important to remember for those who are tweeting at me about Dade that is basically a riddle, wrapped in a mystery, inside an enigma, stuffed into a empanada, doused with hot sauce, and barreling down I-95 at 90mph in a Honda Civic in the emergency lane with the driver leaning out the window holding a couch that is tied to nothing yet somehow balancing on the car roof in a driving rain storm with no windshield wipers, or functioning turn signals.

I get the concern about Dade from Democrats. I also get it is a place that beats to its own drummer. The bad news: GOP turnout rates are higher than Democrats. The reality: that doesn't overly worry me as a single data point. The GOP machine is very good in Miami – and particularly in the Cuban community, there is a real effort to get people to vote by mail and vote early. And Democrats tend to catch up over time.

Keep in mind a few things: there are more Republican Hispanic registered voters than Democrats. I think folks often forget this. Both parties are turning out a fairly equal percentage of new and sporadic voters – so a lot of their advantage is just a function of their voters voting earlier – just like that is benefiting us elsewhere. Also, I looked at some similar data from 2016 later in this same week – and the registration spreads between the two parties were pretty similar.