I'll be speaking at a virtual symposium on the future of legal education to be held on Wednesday, Aug 5. The program starts at noon, and I'm on Panel 2, which is somewhere in the middle because we start with a keynote, and there are four panels.  Six hours in all!
My talk is entitled "The Virtual Law School 2.0" and builds off a talk I gave … 20 years ago.  And the (horrible) slides for that one are still online somewhere, too.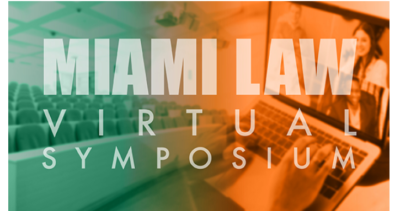 Power, Privilege, and Transformation:
Lessons from the Pandemic for Online Legal Education
Wednesday, August 5, 2020
12:00 p.m. – 6:00 p.m. EDT
The University of Miami School of Law, in partnership with the AALS Journal of Legal Education, is delighted to host a virtual symposium to discuss the ways in which the COVID-19 pandemic has transformed legal education in the U.S.
The symposium will seek to explore the ways in which the delivery of legal education online implicates power and identity and entails institutional and pedagogic transformation. Please join us for a keynote by Professor Cass R. Sunstein, followed by stellar panels featuring Deans Leonard M. Baynes, Darby Dickerson, Eduardo M. Peñalver, Vice Dean Andrew B. Dawson, Associate Dean Margaret Y. K. Woo, Professors I. Glenn Cohen, Charlton Copeland, Meera E. Deo, Michele DeStefano, Doron Dorfman, Yvonne M. Dutton, Sheila R. Foster, Mary Anne Franks, A. Michael Froomkin, Osamudia James, Nina A. Kohn, Mary A. Lynch, Rhonda V. Magee, Jeremy R. Paul, Michele R. Pistone, and Mr. William E. Adams, Ms. Judith A. Gundersen, Mr. David C. Reeves, Ms. Kathleen M. Sullivan, Ms. Kellye Y. Testy, Mr. Richard M. Trachok II.
Academics, practitioners, students and alumni, and members of the public are welcome to attend. There is no charge for participating but advance registration is required.
6.0 CLE Credits Pending Florida Bar Approval