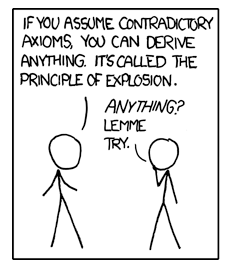 Martin Longman at the Washington Monthly makes an important point:
So, here we have two quotes from the president. They are both short and succinct and as uncomplicated as statements can be:

"I know Matt Whitaker." –October 10, 2018
"I don't know Matt Whitaker." –November 9, 2018

Those two statements would not necessarily contradict each other if they came in reverse chronological order. After all, when you spend some time with someone you had not previously met, then it's no longer true that you do not know them, but it remains true that you didn't know them at an earlier period of time. But you can't know someone in October and no longer know them in November.

[…]

There are a lot of people discussing the constitutionality of putting Whitaker in charge of the Department of Justice and speculating about why it was done and what it might mean. Those are all interesting angles on this story which should be discussed. But I just want to pause for one second to point at those two conflicting statements from the president of the United States.

"I know Matt Whitaker."
"I don't know Matt Whitaker."

He has absolutely no conscience or shame, no pangs of guilt or any possibility of feeling remorse when he contradicts himself like this. Say what you want, but this isn't normal.
It is far too easy to become inured. Bad things happen if we do.