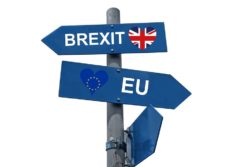 Former UK PM John Major unloads on Brexit:
We know the post-Brexit world will be very different from now. It cannot be otherwise, because no form of Brexit will remotely match up to the promises made by the leave campaign in the referendum: they were vote-gathering fantasies, not serious politics.

I have no constituency vote clouding my view of Brexit. I have no ambition driving my support for it. I have no party whips demanding loyalty before conscience. I have made no false promises about Brexit that I must pretend can still be honoured, even though – in my heart – I know they cannot. I am free to say absolutely and precisely what I believe about Brexit. And it is this:

I understand the motives of those who voted to leave the European Union: it can – as I well know – be very frustrating. Nonetheless, after weighing its frustrations and opportunities, there is no doubt in my own mind that our decision is a colossal misjudgment that will diminish both the UK and the EU. It will damage our national and personal wealth, and may seriously hamper our future security. It may even, over time, break up our United Kingdom. It will most definitely limit the prospects of our young.

And – once this becomes clear – I believe those who promised what will never be delivered will have much to answer for. They persuaded a deceived population to vote to be weaker and poorer. That will never be forgotten – nor forgiven.
Yet the train rolls on.