Here we go again. Coral Gables campaigns usually have a strong veneer of civility (Tony Newell was an exception at the most recent candidates' forum). But that veneer seems to collapse in the last couple weeks of a race, when the gloves come off — or at least the mailers turn up.
So far I've gotten three very negative mailers and one that I think is intentionally very misleading. In all four cases, the mailers are attributed to independent groups.
The ultimate in negative campaigning, so far at least, has to be the hit mailer that just went out against Jeannett Slesnick. This mailer says it was paid for by "Families for Lower Taxes, 6301 N. Wickham Rd. STE 130, Melbourne, FL 32940″. A group by that same name was described as an agent of the Florida Justice Association, a group that represents state trial lawyers, in a 2014 campaign in Polk County. It's very hard to see why upstate (or any) trial lawyers would be anti-Slesnick, or even care about her at all, so I have to wonder if it's just a handy shell company that some political operative uses.
Details–and scans–below.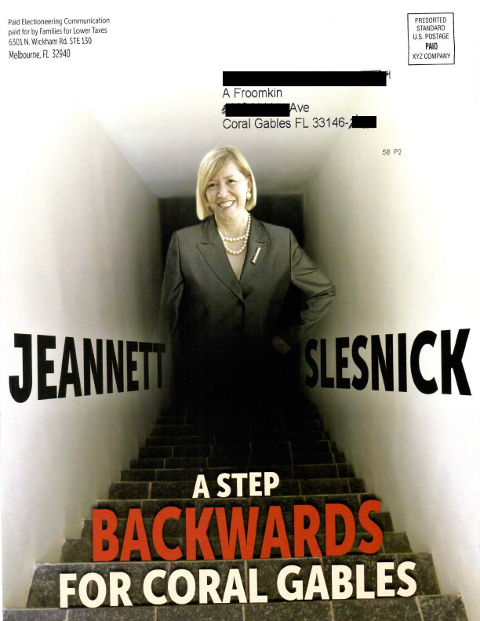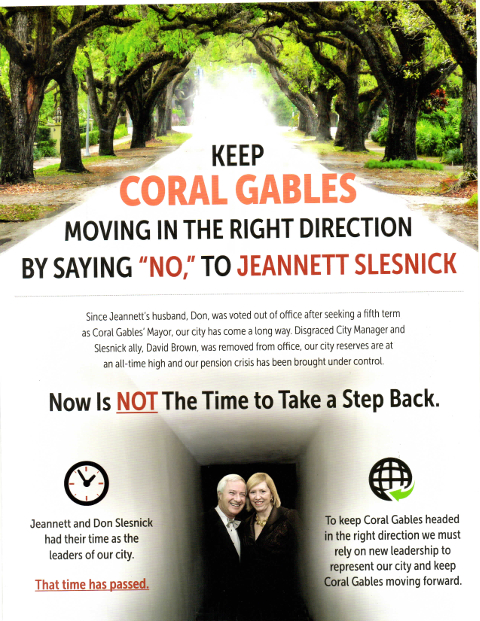 ***
Two of the negative mailers are aimed at incumbent Mayor Jim Cason; both are factual although I think the anti-crime one is overdoing it. The attacks on Cason are from "CORAL GABLES DESERVES BETTER NOW!" No idea who they are, but their Chair and Treasurer is Ernesto Martinez, Jr. (This is also the only one of the three groups located in the Galbes. At least that's something)
Anti-Cason Development Mailer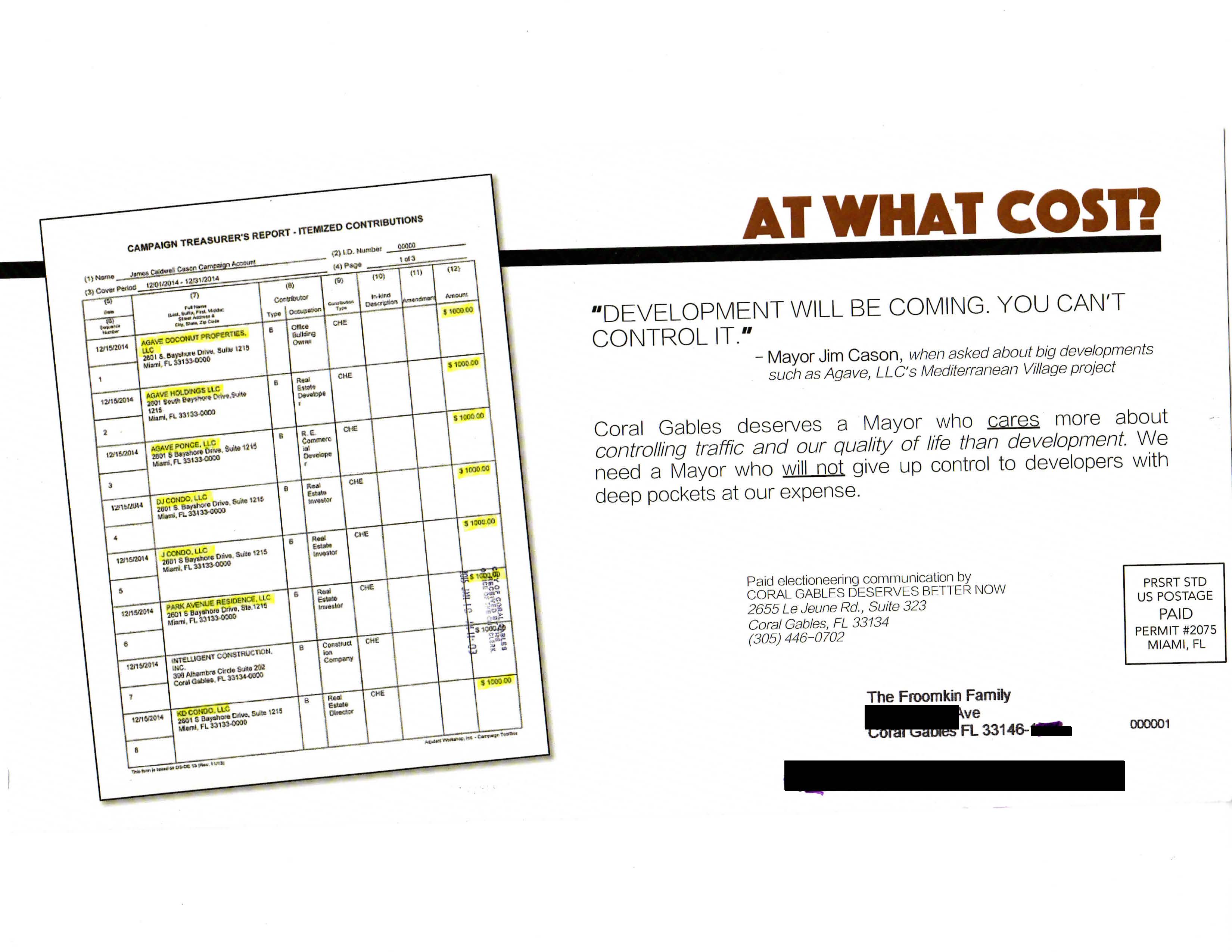 Anti-Cason Crime Mailer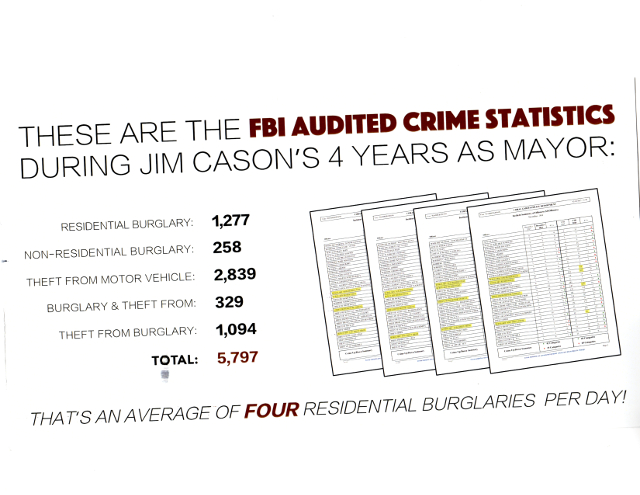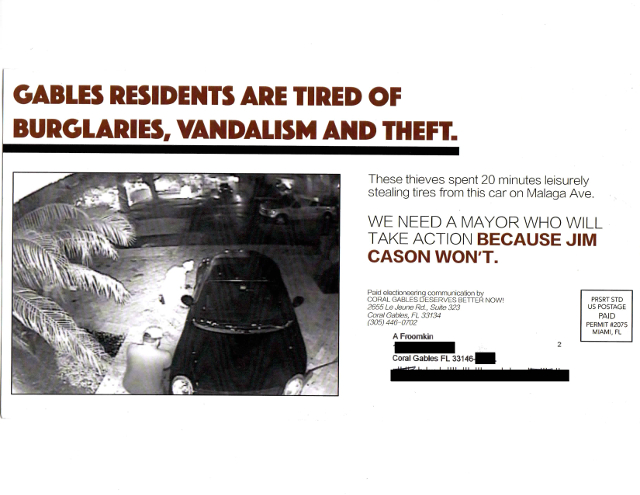 ***
Meanwhile, the Mayor's supporters sent out a big glossy brochure that is so well designed to look like an official city communication extolling the Mayer (note the orange 90th anniversary logo top right) that it fooled me for a couple of minutes. I didn't realize it wasn't the real image. Not an accident, and not nice. The Cason mailer designed to look like a city publication was paid for by "Together for Our City Beautiful," 1985 NW 88th Court, Suite 102, Doral, Florida 33172. I couldn't find this group at the Division of Elections. Here are scans of as much of the outside of this brochure as I could fit on my scanner. There was more stuff, including Cason photos, on the inside.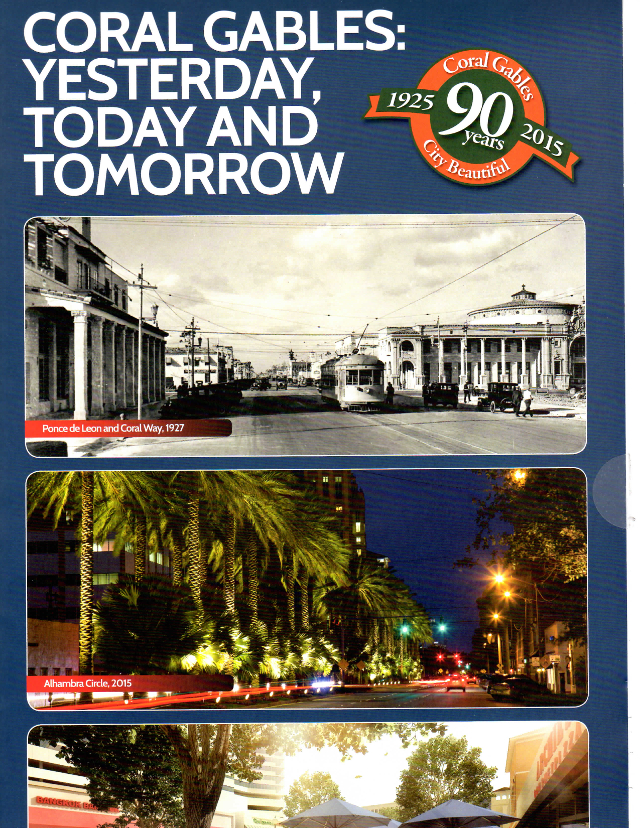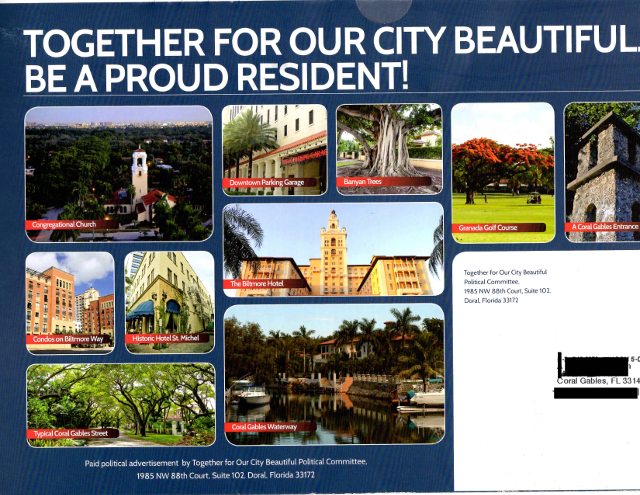 Update: For more on the pro-Cason mailer see Poltical Cortadito, Coral Gables mayor's PAC pays for slick, misleading piece.