It's good to be press. While hundreds of students sweltered in a long snaking line waiting patiently and by all appearances cheerfully to clear security, the press go round the side and have their own dedicated friskers. I was in in five minutes flat.
With the event due to start at 2:30, that gave me about an hour and half to hang around. The bigfoot press all have reserved tables, and move with the POTUS. They're not here yet, as he's at what was supposed to be a secret undisclosed event in the Engineering School, watching a demo. The Miami Hurricane scooped the world on that one.
According to the Hurricane, today's speech — for which there doesn't seem to be an advance text — will be on Energy Policy. That probably explains the very large sign saying "AMERICAN ENERGY"
It turns out I was wrong about the location. They didn't use the Convocation, but a much smaller next door building that is called the Field House, which explains why tickets were so hard to get. There is a small bleacher and a medium sized SRO space, that does resemble a mosh pit, except that the students are in a very good mood. From my caged-in space in the press zone, I saw some very happy law students.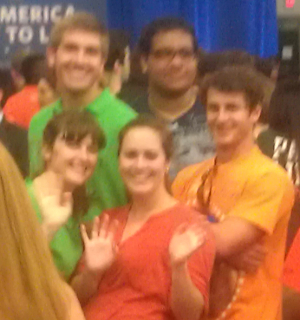 The local press did a couple interviews. One was with Donna Shalala, who as usual said all the right things ("We have a great faculty."). She also explained how she got Obama to come: "I begged."
Of course, Florida being a big swing state, maybe the biggest, had nothing to do with it.