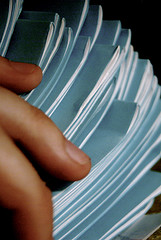 In Negative Results Advance Science Too I reported the result of multi-day experiment conducted on a large pile of law school final exams. The result were discouraging, to say the least:
A large pile of exams, closely observed over a period of days, will not grade themselves. These results are reproducible. Furthermore, altering the test protocol to pay no attention to the exams does not appear to alter the outcome in a measurable way.
I regret to report that I have once again confirmed this result.