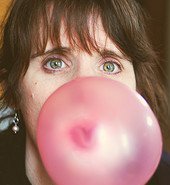 Every semester I prepare a memo for my incoming students about how the class will work. Each memo is tailored to the class, although they all share some similarities. The one for incoming first years is of necessity the longest — I posted a copy of one on this blog a few years ago as A Note for my 1L Torts Class. It hasn't changed that much since.
In editing the note for this year's class, I spent maybe too long trying to decide if I should add something to make it clear that I do not want students blowing bubbles in class. (In fact, I don't particularly want my students chewing gum, but I draw the line at big pink protuberances suddenly appearing in the front of their faces.) On the one hand, I really don't like it, and think that bubble-gum-blowing is unprofessional and inappropriate for the classroom. On the other hand, I would like to think that everyone knows this, and worry that if I am stating an obvious thing like no-bubble-blowing-in-the-classroom it will justly offend people who don't need to be told not to expectorate in class either. In the end, I chickened out.
And yes, yet again, we had a bubble-blower this week.
That's it. Next year I'm putting it in the class policies.
Photo Copyright 2009 by maclauren70. Some rights reserved.