Huge haul today. Pity the postal workers.
I got:
Two anti-Cason attack mailers (one new, one re-run)
Three Mayor's race cards: two from Korge, one from Slesnick
Two Group 4 mailers: a GIANT card from Quesada, and a four-pager from Rosenblatt
One Group 5 from Kerdyk
That makes eight. Eight.
I also got a robocall at lunch time (why do they do them at mid-day?), in which retiring Commissioner "Chip" Withers endorsed Frank Quesada.
Some of these, notably one of the Korge and the Rosenblatt mailers, mark departures from previous campaign styles — the gloves are coming off.
The Anti-Cason Mailers
One of the two mailers is a rerun of the one I got on March 31st, see Today's Dirty Campaign Mailer. The other one is new: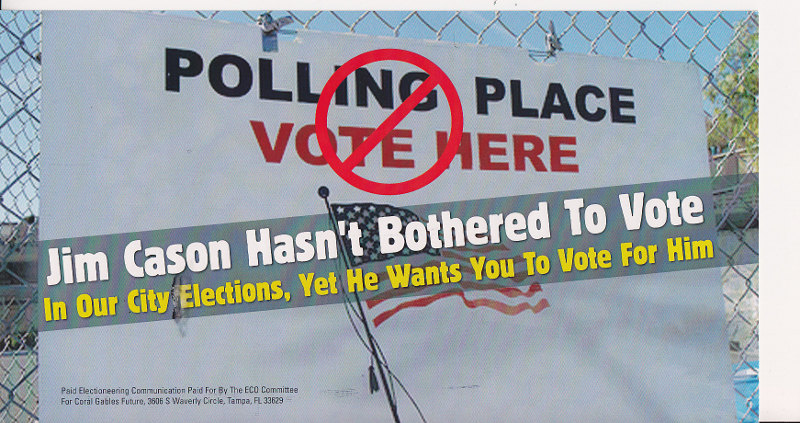 The return address on this one is "The ECO Committee For Coral Gables Future, 3606 S. Waverly Circle, Tampa, Fl 33629" which is almost identical to the sourcing on the other mailer which both last week and today is identified as coming from the "Committee For Coral Gables Future," same address. I have no idea what the addition of the ECO means, if anything. Are there two separate organizational registrations in City Hall? Two separate funds? Or is there less here than meets the eye?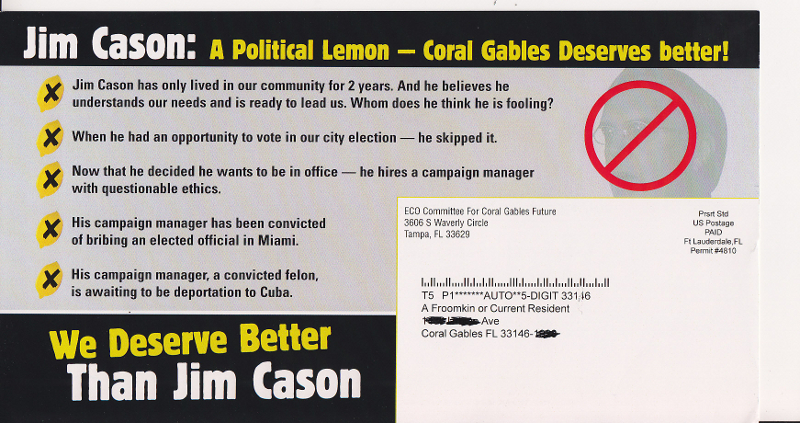 You can click on the picture above for a higher-contrast version. It hits the same issues as earlier ones: Cason has only lived here two years, he didn't vote in the only election he was here for, he has hired a campaign manager "with questionable ethics" who "has been convicted of bribing an elected official in Miami" and "is awaiting to be deportation to Cuba." (Yes, the grammatical error is in the original. We deserve better grammar.)
[Update: There are so many large graphics here that I've put the rest of this long post in the continuation section.]

Tom Korge
Korge has an ugly attack mailer, and a nice mailer celebrating his endorsement by the Miami Herald.
Here's the attack mailer: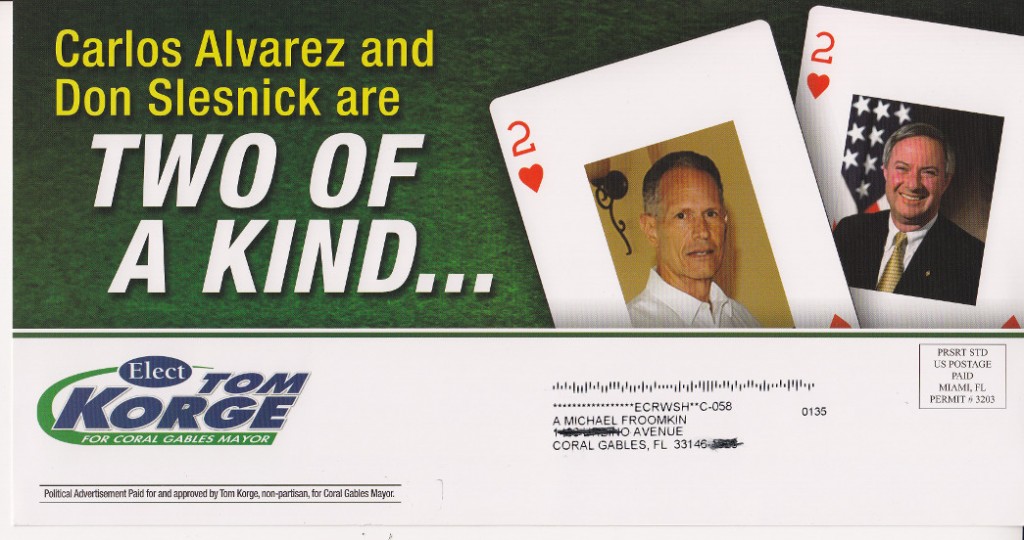 I really don't like this mailer on several levels. I think this is trying guilt by association where it doesn't belong. The two figure have nothing to do with each other, and not that much in common either. Plus, as I've said before, despite his flaws (e.g. the stadium) Alvarez was a better county Mayor than many of his predecessors. I think that it's also a little bit too obvious. It's cheap.
The other Korge mailer is nice.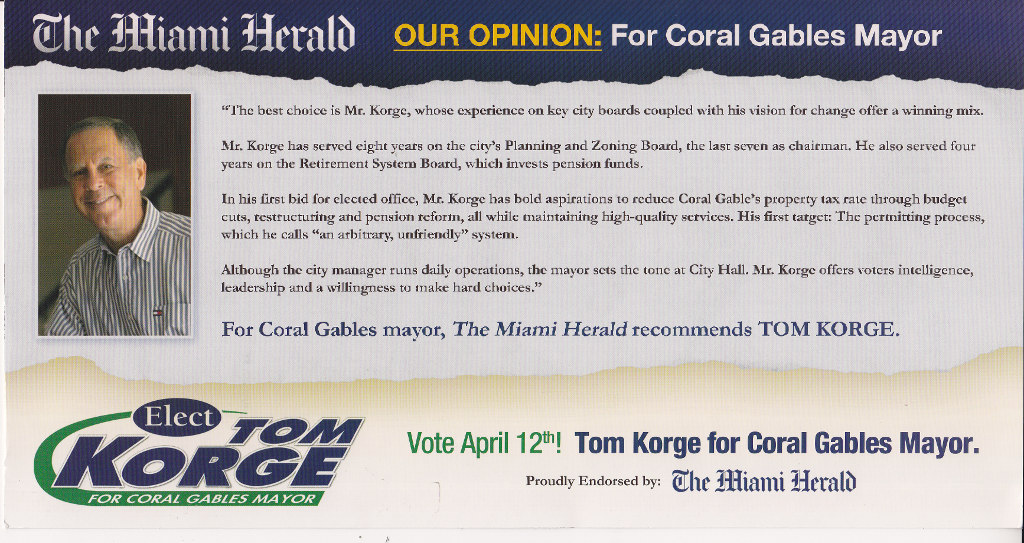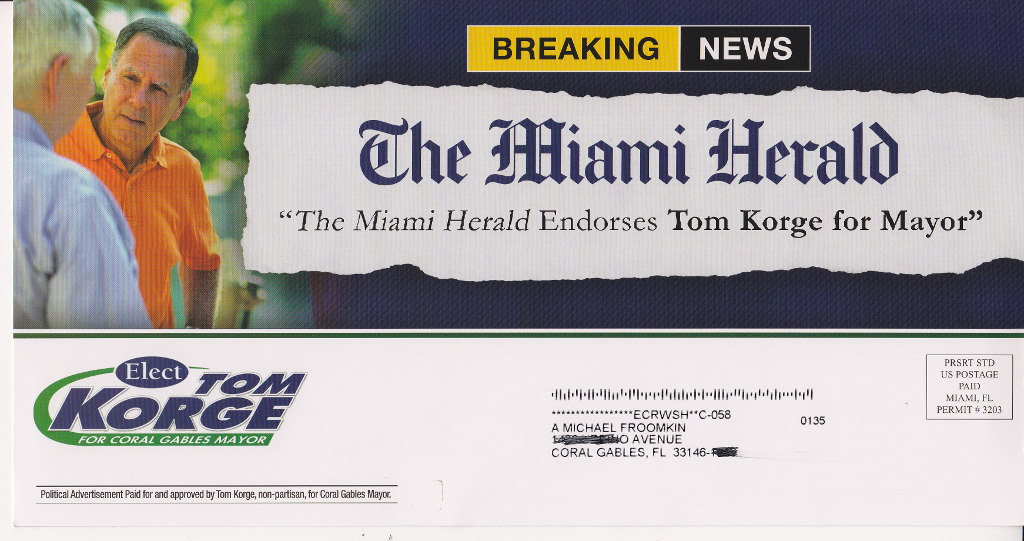 Don Slesnick
Mayor Don Slesnick goes for the schmaltz.
"I don't see how that is going to make people vote for him," said my son.
Group 4
Quesada
The Quesada mailer is so long it doesn't fit in my scanner. I had to fold it and stitch up up the pieces which is why it looks odd.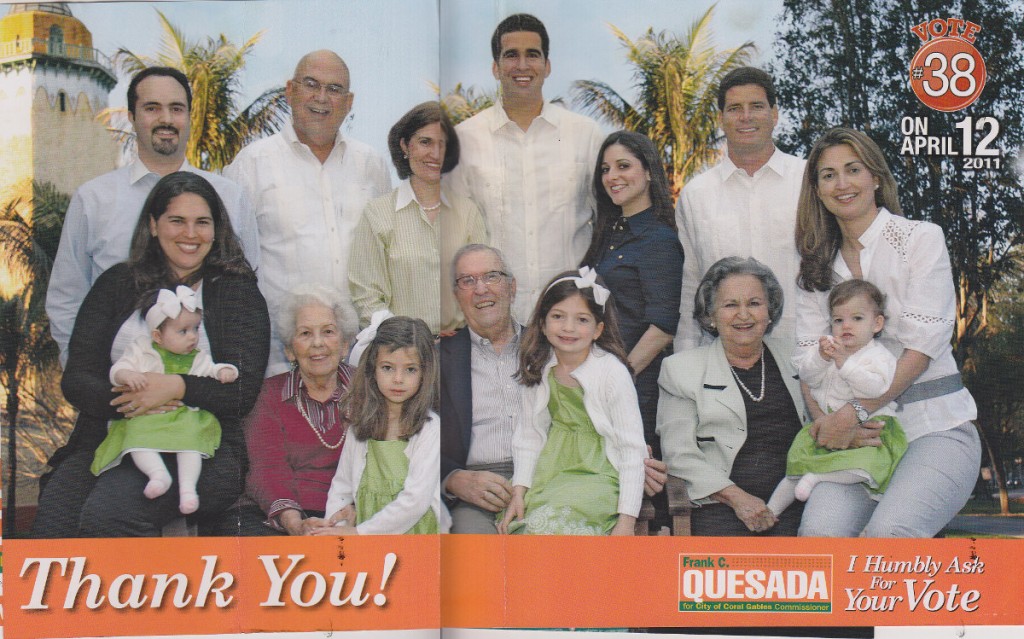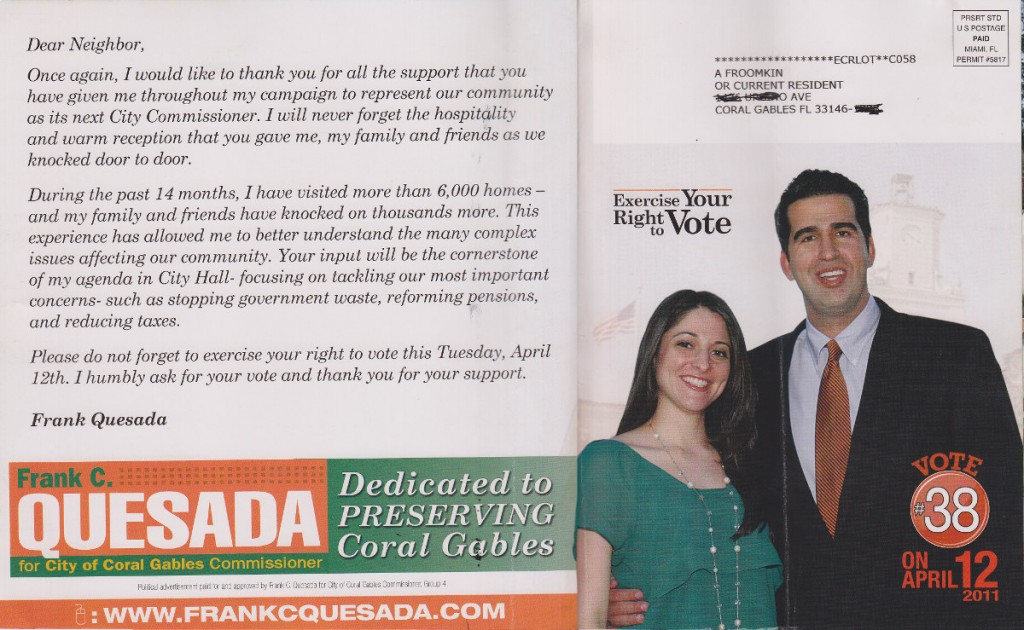 I guess he's tall, too.
Brad Rosenblatt
The four-pager goes on the attack on the front page.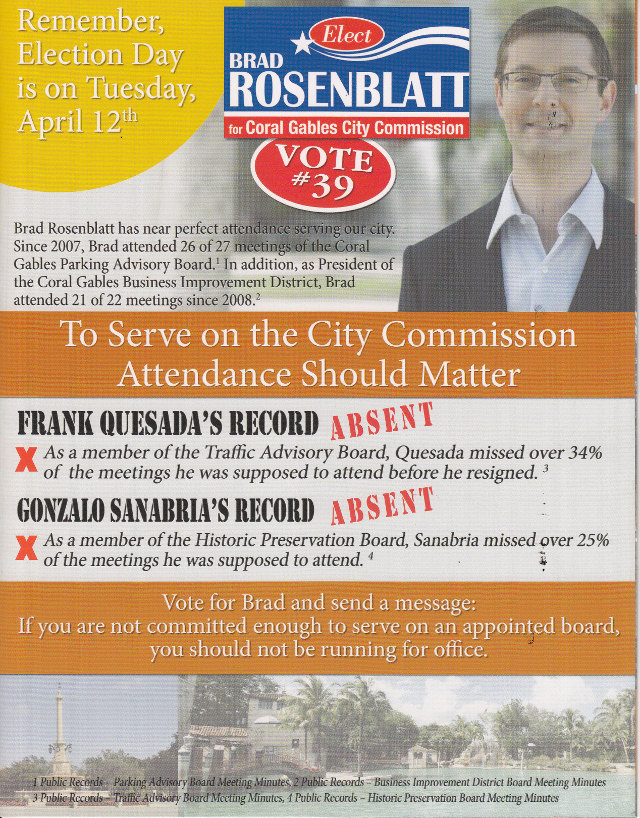 This is an awfully busy page. It's hard to follow. But worse is yet to come.
The scan doesn't do it justice, but the original is really almost as bad as this picture; it has washed-out terracotta backgrounds to the eye-watering white type. The design is really weird: the eye doesn't know where to go as it is dragged this way and that. Imagine the page above to the left of the page below. Double trouble. Update 4: I rescanned the pages as high-quality .pdfs. These are about as legible as the originals. See Page 2 and Page 3.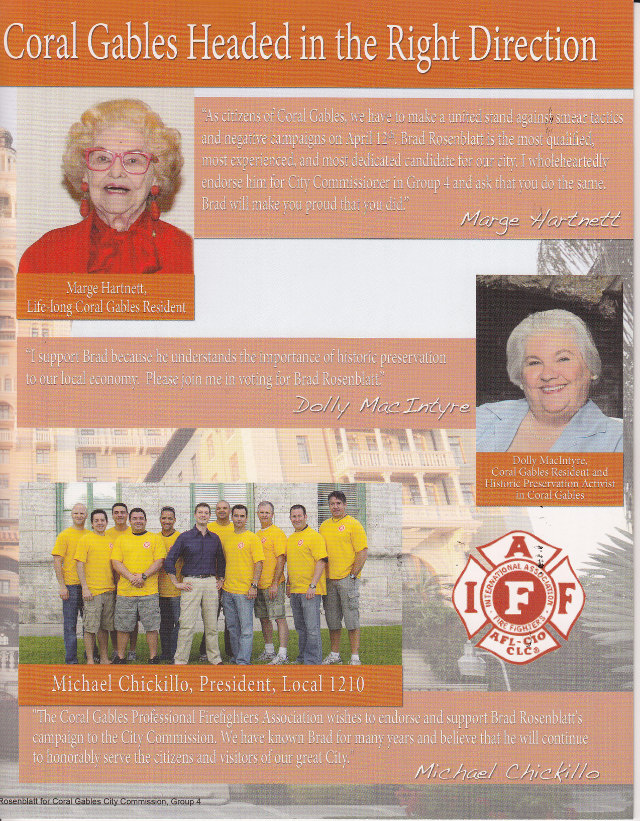 In contrast the last page is readable and actually works. It looks as if it was designed by someone else. Actually the mailer looks like it had three different designers, one for page one, one for pages two and three, and then a third person doing the last page.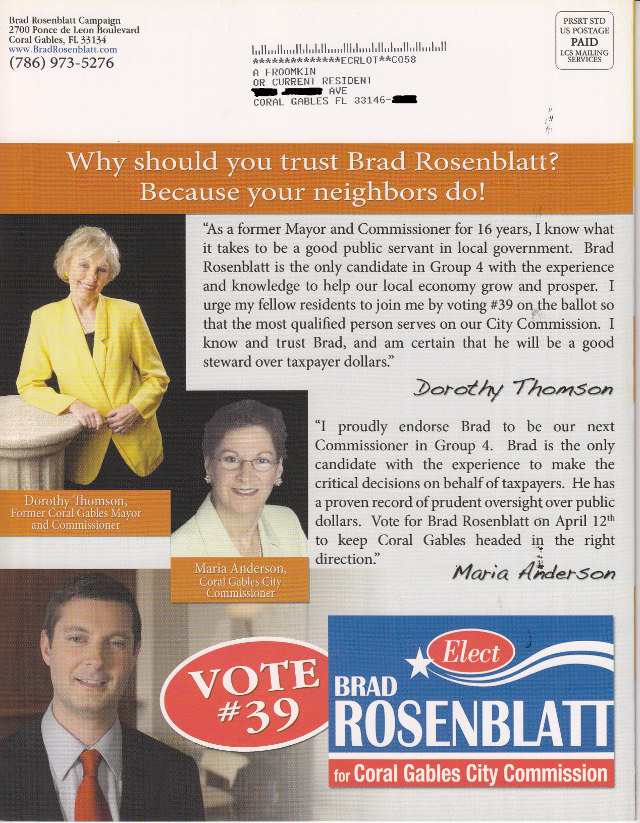 On the substance, it is interesting that Rosenblatt now feels he has to attack Quesada as well as Sanabria. And it's nice that he has put the Fire-fighter's logo on there — but I'd be much more impressed if he had a union printing bug on any of his mailings. Of all the candidates in any of the three races, the only one I've seen with a union symbol on his mailers is Mayor Slesnick, thus showing that he used a union print shop. (The others might have, I suppose, but then they were not savvy enough to request the "bug" be printed.)
Group 5: William "Bill" Kerdyk Jr.
Bill Kerdyk wants you to know he is running a positive campaign.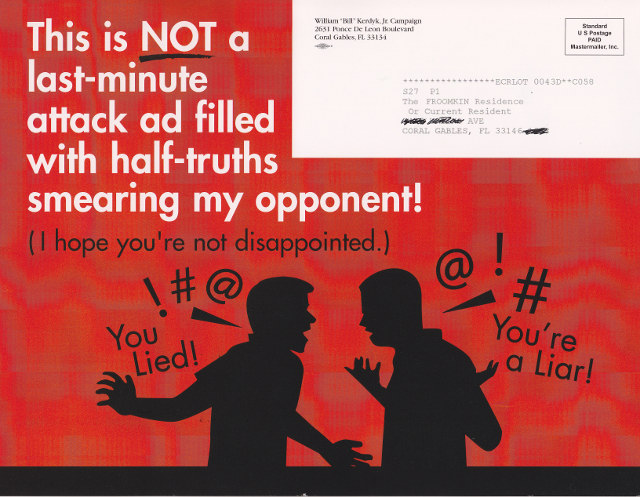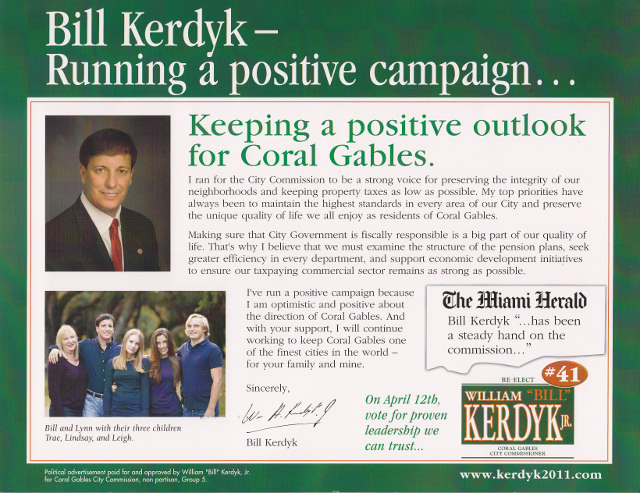 And why shouldn't he? Everyone thinks he's going to win big over his underfunded opponent.