Tuesday saw one phone call, a recording of Ralph Caberra's voice urging me to vote for Gonzalo Sanabria. The message properly identified itself as paid and approved by the Sanabria campaign. It had decent sound quality too.
I also got four mailers: a Slesnick (Mayor), a Quesada rerun (Group 4), a new Sanabria (Group 4), and Kerkyk 4-pager (Group 5). Update: The scans are below.
More interestingly, I had a one-hour talk with Frank Quesada yesterday morning, which I will write up as soon as possible. He struck me as a very earnest and sincere person. I think he's basically well to the right of me, but I was impressed how he'd been studying the Coral Gables budget, one line item at a time.

Mayor's Race
Slesnick makes the case for his re-election. Although it's a bit orange for my taste, I think this is a good mailer–it has actual facts in it. And indeed, it makes the case for retention pretty well.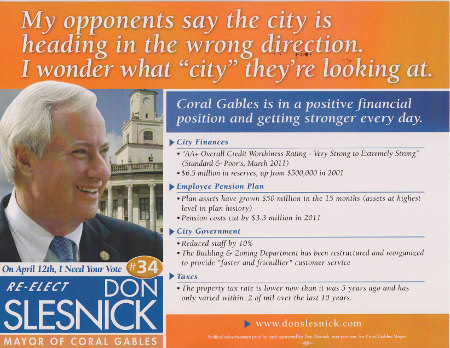 Group 4
Quesada has a re-run of the "Stopping Government Waste" mailer I got on April 1.
My mistake. Quesada is actually doing a series of mailers that look alike, but are not actually the same. Here's what it looked like: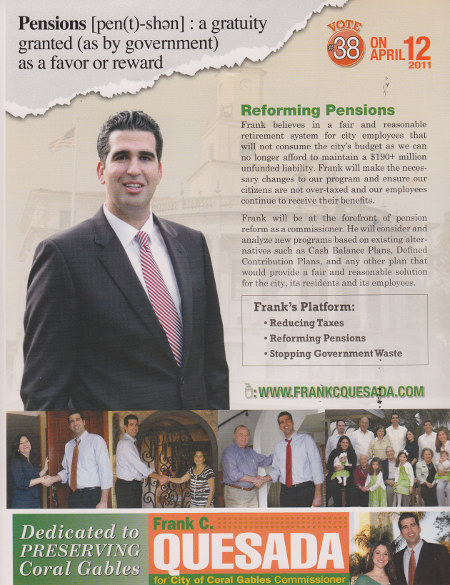 Sanabria has one of his better-looking mailers, even if it doesn't actually say much and he thinks he has to put the headlines crooked. He should pose with his wife more often.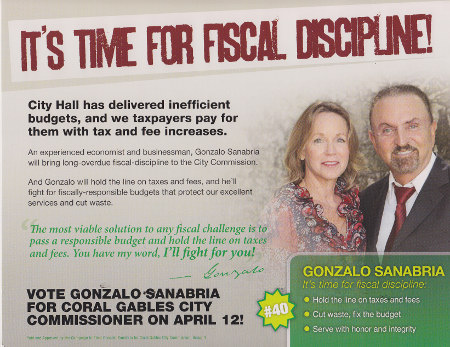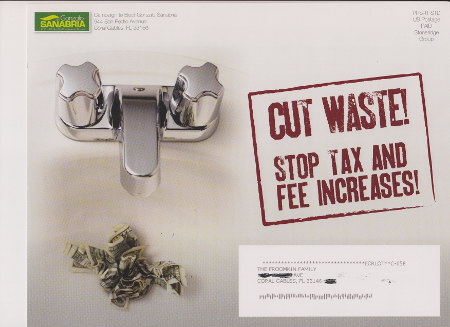 Group 5
Kerdyk's four-pager is boring, but then so is the Group 5 race. Do I care about the trolley? NO, I do NOT care about the trolley. I hear each one costs a fortune to deck out with the silly decals. I've never ridden it. If they want more business for downtown, how about running a line to the UM campus, so all the kids without cars can go shopping there?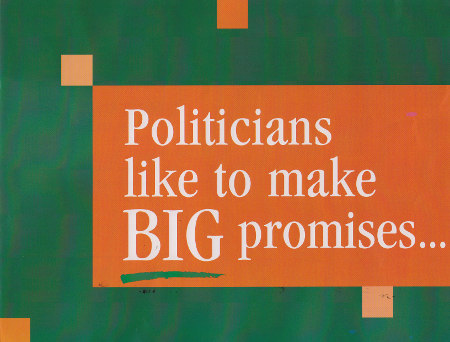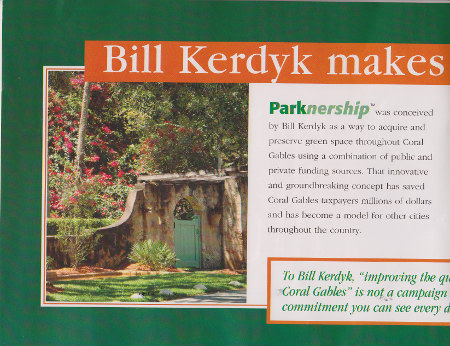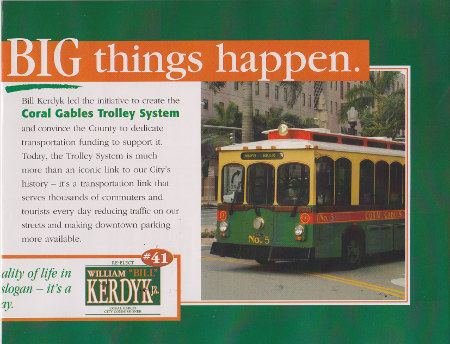 (You know, what I took away from this is that the other guys make big promises, but I just make small ones. I doubt that's what was intended.)