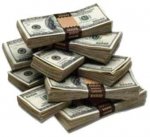 A fertilizer company just bid (and paid) $10,000 for a cake baked by the 9-year-old daughter of the Florida State Agriculture Commissioner Adam Putnam (R).
The second-highest bid at the Polk County Youth Fair Auction was $600.
I can't imagine why they would do that.
The Putnams donated $9,000 of their windfall from The Mosaic Co. to the State Fair.  And kept $1,000.
Via Adam Putnam's daughter bakes a $10,000 cake via Mosaic Pays Big for Young Putnam's Cake.
UPDATE (1/28 5:30pm): There's a whole new version of the story today:
Abigail wanted to give the county fair $9,000, her 4-H Club $500 and keep $500 for herself, the usual going rate for auction cakes. But the award would have violated the state's gift ban.

And so, Putnam negotiated with Abigail, offering to buy her an iPod instead. She countered that she wanted three iPods, so her sisters, including 7-year-old Emma, could have them as well.

"It's been extremely awkward and embarrassing," Putnam said. "And it's gone viral."
Meanwhile Mosaic is saying it was all the act of an unauthorized employee, but despite having figured that out, they are "investigating".