The ultra-rightist mob had a demonstration in DC this weekend. Although organizers predicted a huge turnout, and some partisans claimed over a million, reports are that there was in fact something in the mid-five figures. So it wasn't a big crowd by DC standards — maybe 30-50% the size of the anti-war rally in 2005 that got almost no media coverage.
This rally, though, got front-page treatment. In addition to having a cable network as a sponsor, this group of protesters had two other advantages: they're overwhelmingly white, and they're scary. Anti-war protesters of this decade have worked within the system, and mostly it has ignored them. (Contrast to the anti-globalism protesters, who have had a violent fringe, and have enjoyed violent police preemption and reaction.) The teabaggers act in a way that makes you think shouting at meetings is only the start.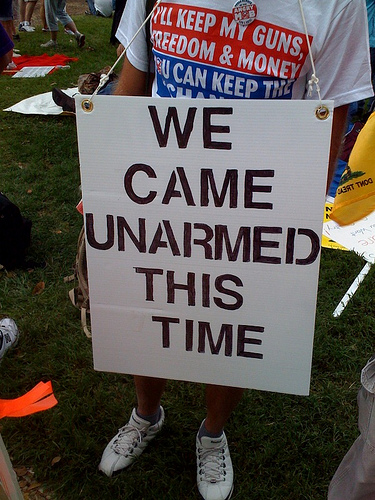 (Source: Josh Nelson)
Imagine if anti-Iraq-war protesters had carried signs with such a whiff of violence? The media would have crucified them as the second coming of the SLA, Baader-Meinhof, and the Weathermen. But these guys? Salt of the earth, of course.