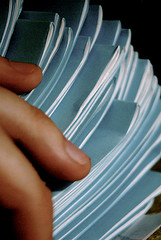 I have just completed a multi-day experiment whose results I wish to report here for the first time, since I understand that negative results are not normally considered publishable in peer-reviewed journals.
A large pile of exams, closely observed over a period of days, will not grade themselves. These results are reproducible. Furthermore, altering the test protocol to pay no attention to the exams does not appear to alter the outcome in a measurable way.
This result is discouraging, but I thought I should report it anyway. Now I'm going into seclusion to grade them manually.
(Pix Copyright by Arbitrary.Marks, licensed via Creative Commons)