Bulletin from UM:
The first two cases of H1N1 flu (swine flu) in Florida were recently confirmed: one in Broward County, the other in Lee County. To date, there have been no confirmed cases in Miami-Dade County or at the University of Miami. The University continues to carefully monitor the situation.

The University has created an H1N1 flu crisis decision team led by Joseph Natoli, senior vice president for business and finance and chief financial officer; Patricia Whitely, vice president for student affairs; and Howard Anapol, director of UM?s Student Health Service. The team is meeting daily to evaluate the latest developments and proactively determine appropriate steps for the University community in close collaboration with the Miller School of Medicine?s Division of Infectious Diseases.

University leaders are maintaining regular contact with local and regional Departments of Public Health and have a fully functional pandemic management plan in place.
More at University Communications H1N1 Flu (Swine Flu) Information and Resources page.
Meanwhile, these have popped up on campus: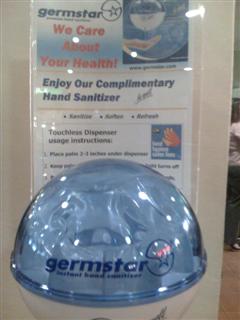 I snapped that picture yesterday in the main food court. (Click on it for a bigger image.) The company's web site says it is 70% Isopropyl alcohol, which I suppose is why it works on viruses.
By the way, the previous text on the UM page (now vanished?) read in part as follows:
There have been no documented cases of swine flu on campus or in South Florida. The University of Miami is carefully monitoring the situation with the guidance of the Miller School of Medicine, Division of Infectious Diseases, and will maintain regular contact with local and regional Departments of Public Health. The University is also taking a number of proactive steps to address the evolving situation.
I imagine commencement is one of those events that epidemiologists worry about.