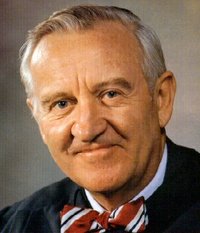 The Law Blog Question of the Day: What's the deal with lawyers who wear bow ties?
What kind of a question is that?
Bow ties, in addition to being natty, take less storage space in your closet. Plus it is very hard to spill soup on them, reducing cleaning costs (and, given that silk is so hard to clean, reducing the risk of ruining a favorite tie).
And Justice Stevens wears them.
What more do you need to know?
The only times I wear one of those long flappy things are for funerals (bow ties are too cheerful for funerals) and before trial courts (juries, and even trial court judges may have unpredictable reactions).