I got a letter from my bank yesterday which came in this envelope: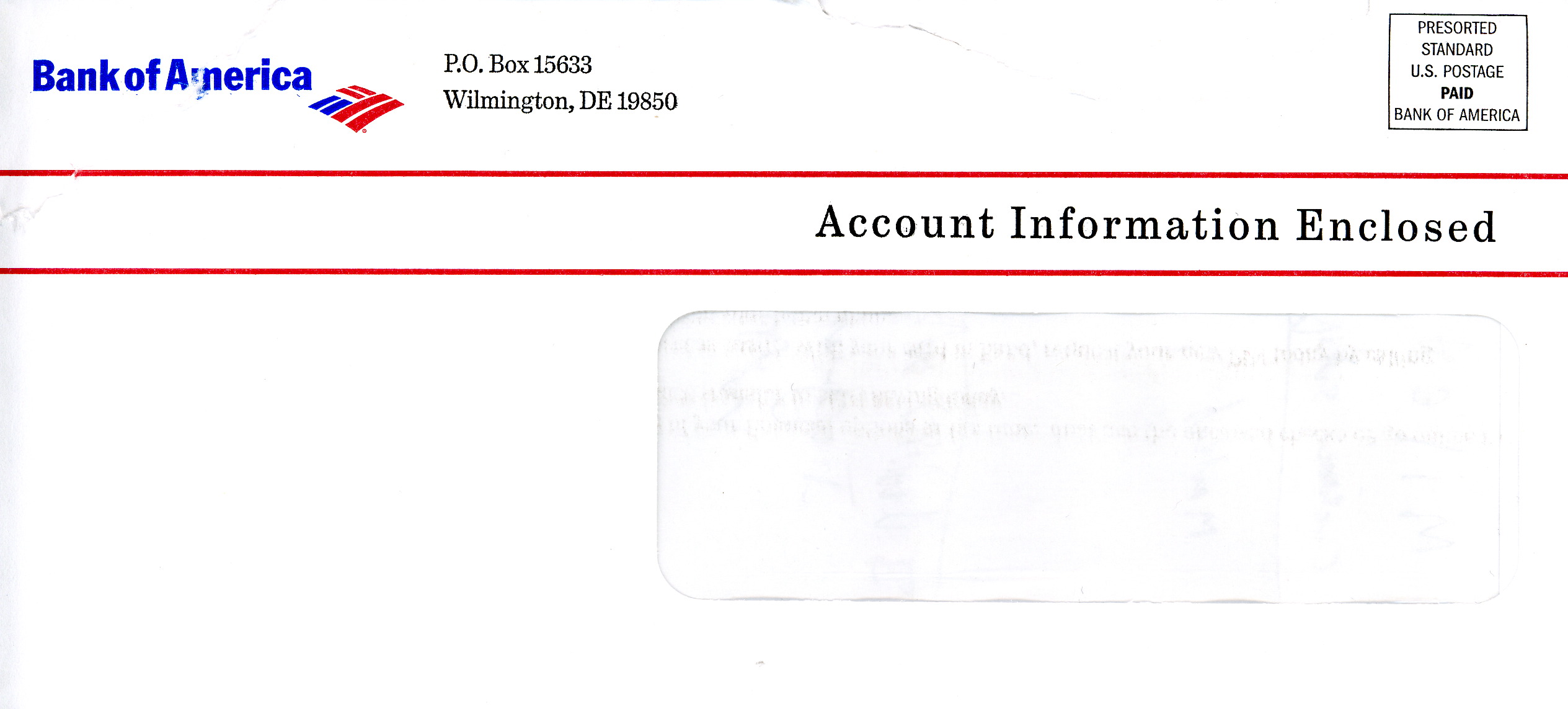 I opened it, thinking I had a bank statement, or worse (since the next bank statement wasn't due). That's what most people would do, I think, if they got a letter from their bank saying in big letters, "Account Information Enclosed."
But there wasn't any account information in there, not as I understand the term. Instead there was a page of advertising extorting me to use one of the three enclosed check-like documents to get a cash advance on my credit card which is about the most expensive way to borrow money short of a payday loan.
So I've written a letter to the bank to let off steam. Now the questions are, (1) should I send it, and (2) can it be improved? Full text below.
---
February 24, 2007
Kenneth D. Lewis
Chairman, Chief Executive Officer and President, Bank of America
Bank Of America Corporate Center
100 N Tryon St
Charlotte Nc 28255
Dear Mr. Lewis:
I am writing you in the hopes that you will put a stop to a deceptive advertising practice that the Bank of America has adopted.
I recently received a letter from Bank of America with a small representation of the American Flag, and the words "Account Information Enclosed" in big letters on the envelope. Of course I opened it at once — who wouldn't? — but was shocked to find that it did not contain any information about my account. Instead it contained an advertisement encouraging me to borrow money via "checks" that serve as a cash advance drawn on my Quantum MasterCard. This is not "account information" as I understand the term. I've asked many other people, and they all agree that "account information" would mean a bank statement or a notice of some kind such as a charge or deposit record or a change in the terms of the account.
I called customer service at 1 800 692 1564 and attempted to speak to someone about this but was not successful. Customer Service offered to stop sending me the blank checks, which is fine but as I tried to explain to them doesn't really get to my main point: I want to do business with a bank that I can trust, and part of that trust is telling me (and other customers) the truth. I don't think this envelope was truthful. The front-line Customer Service agent then tried to tell me that the checks were "account information" because they were linked to my account. That's so silly that I consider it offensive.
When, after about eight requests, I was finally permitted to speak to a supervisor, the very polite gentleman agreed with me that the marketing was deceptive (he said it made him think of Machiavelli!) and said that if it was up to him, he would change it, but that he didn't have the power to do so. I then asked for the name of a person to whom I could address my concerns, but, like the front-line Customer Service before him, the second-line agent was unable to provide me with the name of any human being at the bank who is responsible for these matters. I was offered a chance to write to a generic address, but declined. I prefer to deal with people who have names and believe that people in organizations should take personal responsibility for their decisions.
And that is why I am writing directly to you.
I'm sure you agree with me that the Bank of America wants to avoid trying to trick people in any way, whether small or large. In this, I am heartened by the strong statement online that appears over your signature at [Long URL]:
At Bank of America, we are committed to upholding the highest standards of corporate governance and ethical conduct in all we do.

In its role as our primary governing body, our board of directors provides oversight of the company's affairs and constantly strives to improve and build on the company's strong corporate governance practices.

Our management processes, structures and policies help ensure compliance with laws and regulations and provide clear lines of sight for decision-making and accountability.

… One way we build and protect our culture is by aggressively promoting our company's core values to associates at all times, as well as our Code of Ethics. We also know that actions speak louder than words. And so, we foster a culture of openness, in which healthy debate is encouraged and associates are expected to blow the whistle on improper activity.
Indeed, I congratulate you on fostering a culture in which even a fairly low-level employee feels empowered to identify this deceptive advertising strategy for what it is, Machiavellian.
I also draw great comfort from Bank of America's Code of Ethics at [another long URL], where you state,
Trust is the foundation on which we build strong relationships with our customers, our shareholders, our communities and one another, and it is trust that enables us to achieve our goals. The responsibility for creating and sustaining trust in Bank of America rests squarely on each of us and the personal integrity we bring to our work.
I am sure you will agree that routinely sending out tens of thousands of letters claiming "Account Information Enclosed" when in fact they have no such thing undermines my (and no doubt many other customers') trust in the Bank of America.
I look forward to your prompt attention to this matter, and trust that you will approach it the spirit of the Bank of America motto, "Higher Standards."
Yours Sincerely,