The demonstrably silly post I made the other day Hey Florida, Have You Got the Hint Yet? got linked to by Atrios and many other blogs. So it got more than seventeen thousand visitors in a couple of days, very very few of whom then went on to look around the rest of the blog. A few clearly thought I was in earnest.
So, for the record, just because Jeanne did a dispsy doodle and is now heading straight for Palm Beach does not mean anything about Fate, Warnings, Butterfly Ballots, or who should be President.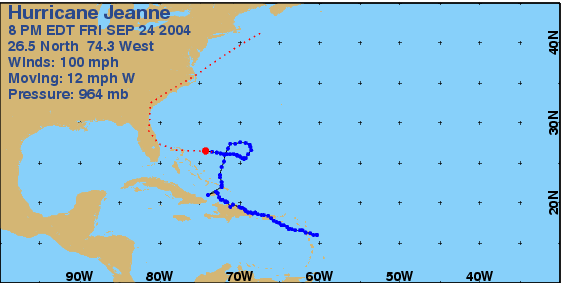 Unless, of course, the fear that this just might be a Sign would make you more likely to vote for Kerry in order to begin to undo the consequences of the ballot mess in Palm Beach four years ago. In which case, yes, it's a Sign, and we can expect continual disaster until we all get the message. Notice how the predicted track hugs the East Coast right up to Washington, DC? But like Pharoah before him, the current ruler will not heed the warnings…the people must repent before it's too late…
Actually, come to think of it, we can expect disaster until this lot is out of Washington. Trouble is, the disasters are man-made.